NAJA to elect four board members during 2016 Excellence in Journalism conference Sept. 20
Posted by Rebecca Landsberry on 09/07/2016

The Native American Journalists Association Board of Directors has three vacancies for three-year terms and one vacancy for a two-year term. All newly elected board members will begin their terms in September 2016.
NAJA members will elect board members through a balloted vote, in conjunction with the 2016 Excellence in Journalism conference in New Orleans. Members in good standing may vote at the NAJA booth located in the Napoleon Ballroom hallway on Tuesday, Sept. 20, from 10 a.m. - 5 p.m.
Three candidates are running for four seats and a write-in option will be also be available.Winners will be announced during the 2016 National Native Media Awards Banquet. The first NAJA board meeting with new members will be Wednesday, Sept. 21 in the Bayside A room of the Sheraton New Orleans.
For questions about elections, contact NAJA Election Committee Chair Jolene Schonchin at [email protected].
Meet the candidates:
Jennifer Bell
Jennifer Bell is currently the Director of Public Information for the Citizen Potawatomi Nation. In her role at CPN, she is responsible for publishing a monthly tribal newspaper, developing public relations and marketing campaigns for tribal enterprises and acting as a liaison between the tribe and local media and governments.
Prior to joining Citizen Potawatomi Nation, Jennifer worked as communications manager for Cherokee Nation Businesses. While at CNB, Jennifer oversaw public relations for Cherokee Nation's gaming and tourism endeavors.
Jennifer has worked on many publications throughout her career, including the Hownikan, which won an award for general excellence from the Native American Journalist Association and Where the Casino Money Goes, which won an award for best external publication from the Ragan PR Daily Awards.
Jennifer works diligently to educate and inform the world about the positive impact tribal governments have in their communities. She is a member of the Citizen Potawatomi Nation and the Cherokee Nation.
Jennifer received a Bachelor of Arts from The University of Tulsa in 2007 and a Master of Legal Studies in Indigenous Peoples Law from the University of Oklahoma in 2016. In 2015 she was recognized by The National Center for American Indian Enterprise Development for leadership, initiative and dedication to Indian Country.
Dr. Victoria LaPoe
Dr. Victoria LaPoe is sequence coordinator for broadcasting and film within WKU School of Journalism & Broadcasting. Victoria has been published in academic journals such as Communication Research, Visual Communication Quarterly, and Electronic News.
She is co-author of the book Oil and Water: Media Lessons from Hurricane Katrina and the Deepwater Horizon Disaster. Oil and Waterexplores the visuals and narratives associated with both disasters. Through a detailed analysis of the journalists' content, the book assesses the quality of journalism and the effects that quality may have on the public. Oil and Water argues that regardless of the type of journalism involved or the immensity of the events covered, successful reporting still depends on the fundamentals of journalism.
Victoria has an additional book coming out in February 2017, titled Indian Country: Telling a Story in a Digital Age, where she evaluates how digital media are changing the rich cultural act of storytelling within Native communities. The norms and routines of the non-Native press often leave consumers with a stereotypical view of American-Indians. This book contains interviews with more than 40 Native journalists around the country to understand how digital media possibly advances the distribution of storytelling within the American-Indian community. All authors' proceeds from the book goes to NAJA's Native American Journalism Fellowship.
She is a lifetime member of the Native American Journalists Association.
Ramona Marozas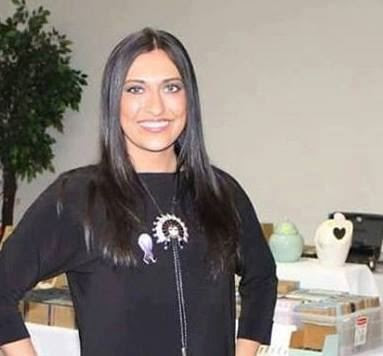 Ramona Marozas joined the CBS 3 newsroom in Duluth, Minn., as a Multimedia Journalist in September2013, and became the Morning Producer that same month.
Marozas has been a proud member of the Native American Journalist Association (NAJA) since 2008. She attended NAJA conferences in 2009 and 2011 as a student, and returned in 2013and 2015 as a mentor. She also was a student at the UNITY: Journalists of ColorConvention and the Crazy Horse Journalism Career Conference in 2008.
As a product of NAJA, Marozas understands the importance of Native storytelling. She is dedicated totrying to fundraise for NAJA in any way possible. She has a vision to get moreNAJA members through awareness efforts. She has experience emceeing and speaking at multiple events:
She worked as the Web Producer and KBJR 6 Producer (5 and 6 p.m. newscasts) from February 2014 through January 2015. She moved on to hold the position of Web Producer andKDLH 3 Producer (5:30, 6:30 and 10 p.m. newscasts; as of December 2015, she also holds the position of producing the KBJR 6 Noon show). Currently, she produces the CBS 3 News at Six, and also reports when needed.
Marozas is a member of the largest Chippewa reservation in Wisconsin, which is the Bad River Band of the Lake Superior Tribe of Chippewa Indians Reservation.
She grew up in Andover,Minn., and graduated from Andover High School in 2008. Marozas went on to graduate from St. Cloud State University (SCSU) in 2012 with a degree in television broadcast journalism and a minor in American Indian studies. Marozas has experience filming, editing, producing, anchoring and reporting at SCSU's television station.
During her college years, she interned at the St. Cloud Times in St. Cloud, Minn., and at the ArgusLeader in Sioux Falls, S.D. After college she became the first News Apprentice to work at WCCO-TV in Minneapolis. She is also a 2010 and 2011 American Indian Journalism Institute (AIJI) graduate and a lifetime NAJA member.